Diamond Selling Guide
Whether you have unwanted jewelry sitting around your home or you need cash and you need it fast, selling diamonds is a great way to earn some extra money. Although it may seem like a difficult process, it doesn't have to be. Las Vegas Jewelry and Coin Buyers has put together this helpful guide detailing all the steps in selling your diamonds for cash. Let us know if you have any questions as we are more than happy to answer them.
What Types of Diamonds Do I Have?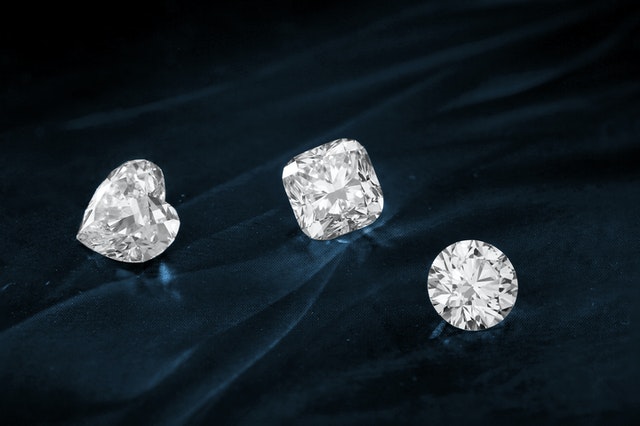 Image via Pexels by The glorious studio
When selling a diamond, it's helpful to have an accurate picture of both the quality and authenticity of the stone. Unfortunately, many diamond owners believe they have a top-quality gem when the reality is quite different. The best way to discover the exact type of diamond you have, and what it's most likely worth, is to have it assessed by a professional.
A qualified appraiser can impartially evaluate the diamonds you wish to sell. A professional appraiser is familiar with the four major factors in determining a diamond's value: color, clarity, cut, and carat weight. All four characteristics should be used to assess the stone and its worth. If you cannot afford to take your diamond to a qualified appraiser, a professional diamond buyer can evaluate it for free. We recommend visiting two to three stores in order to get a solid idea of the types of diamonds you have as well as how much your diamonds are potentially worth.
How Much Can I Sell My Diamonds For?
The next step is to determine how much you can realistically sell your diamond for. If you see a big price tag on a similar diamond, that does not mean you will get that amount when selling it. The supply, demand, and current market trends for jewelry influence the selling price of a diamond. If you had your diamond appraised by a professional, you can ask them what they think you could sell it for currently. They may be able to help you understand how to calculate the potential resale value of the gem as well.
If you are not taking your diamond to an appraiser, you can certainly conduct some research on your own. Check out eBay or other jewelry auction sites and look at how much diamonds that are similar to yours have sold for. You can always look at diamond retail shops as well to find out how much diamonds cost. You will need to take into consideration that you are selling a used diamond. Even if it is in pristine condition, it still may not sell for as much as the same type of diamond would at a retail jewelry store.
Where Can I Sell My Diamonds?
There are several options when it comes to selling your diamonds. It all depends on how much you trust the buyer, how much you want to negotiate, when you need the money, and how quickly you can settle on a price with the buyer.
Sell to a Jeweler or Diamond Dealer
The advantage to selling to a jeweler or diamond dealer is time. You can typically sell your diamonds quickly, but you may not get as much as you want for them. Choose a jeweler you trust as they are most likely to give you a fair price. As retailers, they need to make a profit from your diamond so they will not pay near its retail value. The same goes for pawnbrokers as well.
Sell on eBay or Craigslist
When you are selling your diamonds directly to the public, you are more likely to sell them for close to the price you asked. The disadvantage to this option is that it may take longer, plus you will need to weed out those who are merely curious from those who are sincerely interested in your diamonds. There are also plenty of websites where you can sell your diamonds, such as Facebook Marketplace, Etsy, Worthy, and The Real Real.
Sell on Consignment
The beauty of selling your diamond on consignment is that someone else does all the selling for you. While you may get a better price if you sell to a diamond dealer or on eBay, you won't have to deal with the hassle of the actual sales process. You simply take your diamond to a consignment shop where they will let you know what they charge for commission. If you agree to that, you can probably sell your diamond more quickly than if you did it on your own.
Another note: Be sure you choose a consignment dealer that you trust and has a reputable character. Look up their business on Yelp or Google, or ask friends or family for their recommendations.
How Can I Avoid Mistakes When Selling Diamonds?
Due to the expensive nature of diamonds, you need to be aware of the common mistakes many diamond owners make when selling their stones. Fraud and safety should be a top priority. We recommend you take these safety precautions as you look for a legitimate buyer for your diamonds.
Never Meet at Your House
Unfortunately, too many people are out to make money the unsavory way — by stealing from innocent well-intentioned people. One of the things you want to avoid is meeting someone for the first time at your home. This one step will protect you against robbery and theft. Meet in a public place like a park, coffee shop, or mall.
Be Aware of Fraud
While cash is the best form of payment, you can take any type of payment you'd like. Be aware that checks of all kinds can be forged. Always accept payment and be sure it is legitimate before handing over your precious jewels. Thankfully, there are options out there like PayPal and Venmo that include their own security policies against fraud and can be helpful in ensuring you receive your payment.
Take Someone With You
Be extra diligent about your safety by taking someone you trust with you to the transaction meeting place. You could also inform them of the time and place of the meeting and check in with them after the transaction has taken place.
Here at Las Vegas Jewelry and Coin Buyers, we have experienced diamond dealers who can assist you in selling your diamonds for cash. Contact us today to learn how we can help you get the most cash for your diamonds.
Tags: Diamonds, Selling Guide