Top 5 Luxury Hotels in Las Vegas
Las Vegas sits in the Mojave desert in southern Nevada and is the largest city in the state and perhaps the most popular party city in the country. Famed for its nightlife, casinos, world-class dining, and world-renowned entertainment venues, it's the place to go for a great time. Bring a few friends and wander the Strip, as the main entertainment street is called, and indulge in an experience like none other in the world. While enjoying the party city it's important to have a luxurious place to come back to so you can rest, relax, and recharge before another day of fun.
The Venetian Resort
The Venetian is an opulent Venice-inspired hotel, resort, and casino that is conveniently located on the Las Vegas Strip in the heart of the entertainment center. This towering hotel consists of 36 stories with over 4,000 luxury rooms, each lavishly decorated to match the Northern Italian theme. The lobby features a high frescoed ceiling, while the floors in the entrance and halls are decorated in colorful tiles.
One of its most unique features is the Grand Canal Shoppes, a luxury mall connected with indoor canals of crystal blue waters where gondoliers ferry you between the upscale shops, dining, and other entertainment opportunities. While staying at this five-star hotel you can dine at one-of-a-kind restaurants, experience the upscale Dorsey cocktail bar, try your luck at the casino, and relax in elegant outdoor pools and sculpture gardens, all without leaving the old-world charm of this resort.
Bellagio Resort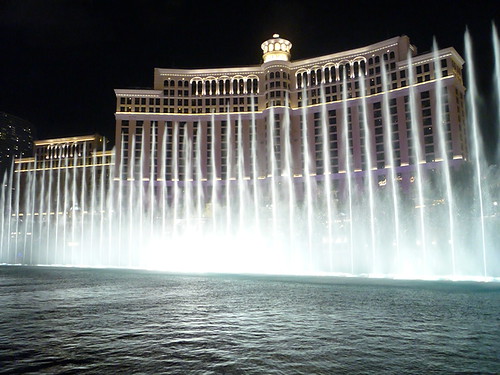 The Bellagio Hotel and Resort sits behind the iconic dancing fountain within an eight-acre lake separating the hotel from the busy Las Vegas Strip. Named after the town of Bellagio in Italy, this elegant and ritzy casino resort has been a gathering place for those seeking a good time for many years. It features fine dining at over a dozen restaurants, live shows including the permanent Cirque du Soleil production O, outdoor pools, a luxury spa, and more.
Between the main original tower and the newer Spa Tower, it offers 3,950 rooms elegantly furnished rooms. One of the Bellagio's impressive display features is the Fiori di Como by renowned glass-blower Dale Chihuly that covers the lobby ceiling with over 2,000 hand-blown glass flowers. You'll also discover the Bellagio Gallery Of Fine Art, Bellagio Conservatory, and The Bank Nightclub.
Wynn Las Vegas
Wynn Las Vegas and its adjacent sister site Encore together make the seventh-largest hotel in the world, with over 4,700 rooms between them in the complex. Rooms range in size from cozy 640 square feet to whole villas at over 3,000 square feet. This luxury resort and casino covers 215 acres along South Las Vegas Boulevard from Sands Ave. to East Desert Inn Road.
Resort attractions include the shopping plaza with many high-end fashion brands, exclusive fine dining restaurants serving up cuisines from around the world, gorgeous indoor gardens, the Wynn golf course, indoor/outdoor nightclubs with pools and water features, and an award-winning spa. In fact, the duo of Wynn and Encore form one of the most awarded and highly rated casino resorts in the world. You'll love the colorful art displays, the romantically lit gardens, and having everything you could want right here at the resort.
Caesar's Palace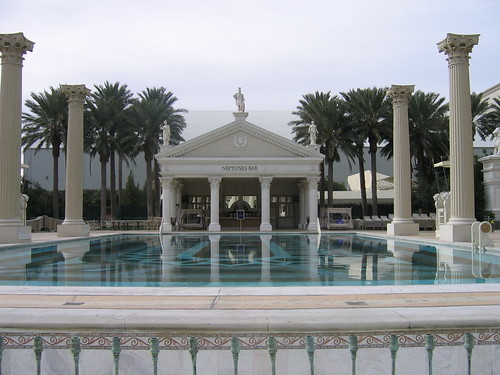 An instantly recognizable landmark along the Las Vegas Strip, Caesar's Palace was founded in 1966 and has been welcoming guests into its 3,960 rooms for decades. Its design inspiration is the grandeur of ancient Rome, and as you enter you'll be greeted by tall statues, vaulted brightly painted ceilings, and ivory columns. Its main theater, called The Colosseum, seats over 4,000 guests and has had performances from everyone from Celine Dion to Elton John. The casino offers many table games including Blackjack, Craps, and Roulette. There are also slot machines, video poker, and a race and sports betting area.
If you stay at Caesar's Palace you'll be surrounded by Greco-roman statues, and high-class restaurants within the palace catering to many tastes from around the world. The Forum, as the high fashion shopping mall is called, features impressive spiral escalators with roman designs, many replicas of famous fountains, and boutiques that include Versace, Cartier, and Dior. One of the most popular destinations in Las Vegas, your experience here will be like no other.
ARIA
ARIA is a hotel and casino resort that is part of the CityCenter complex on the Strip. Opening in 2009, it's the newest hotel on this list, and at 600 feet it is the tallest building in the CityCenter. With plush interiors and many attractions including luxury dining and shopping, three outdoor pools, and live entertainment shows, it deserves its spot on any itinerary. This modern hotel features energy-saving technology and intelligent design construction that contributes to its LEED Gold certification. Smart room features help minimize its footprint while keeping guests in a high standard of comfort.
The ARIA Hotel consists of two curving glass and steel towers connected by a shared center. They contain just over 4,000 rooms, many elegant restaurants, and ten nightclubs and bars where you can relax with a drink after a fun-filled day at the shops and casino. At the main entrance, you'll be greeted by a water display synchronized to music, and the lobby features many works of art as does the hotel interiors. Your stay here will be luxurious, convenient to amenities, and just a little more modern than the other hotels.
There is no other experience like staying at one of the Las Vegas Strip's world-class resorts. These opulent hotels offer beautiful and luxurious accommodations along with truly exceptional restaurants, high-end designer shopping, and incredible views. Are you planning your first trip to Vegas or are you a seasoned visitor who comes every year? At Las Vegas Jewelry and Coin Buyers we'd love to hear if you've been to any of the hotels on this list and what you thought of it, so drop us a line and let us know if you have a favorite Las Vegas hotel.