Try These Zip Line Companies in Las Vegas
If your family is in need of some thrills, zooming by on a zip line is one of the best ways to view the sights from above. It should come as no surprise that Las Vegas, which is known for its stunning lights and ability to get your heart pounding, has some of the best zip lines in the country. But how do you know which ones you should try out? Take a look at our list and make a point to check out Sin City with one of these zip line companies.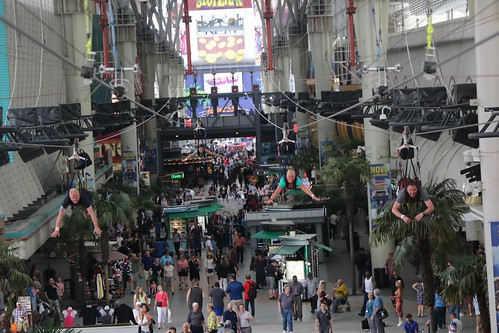 Flightlinez Bootleg Canyon
Although this zip line company is several miles outside of Las Vegas in nearby Boulder City, that shouldn't deter you from making a stop. Rather than boasting a one-ride trip where you're supposed to view everything, Flightlinez Bootleg Canyon has four separate zip lines that cover 1.5 miles across the Mohave Desert.
Tour groups typically include 12 guests for this 2.5- to 3-hour eco-friendly adventure. Once you complete your safety class where guides go over basic information about the tour and provide safety instructions, you take a van ride up the mountain and then endure a 15-minute hike up a mountain bike trail. If you need to rest, guides make sure everyone stops when necessary. They also provide plenty of water so you stay hydrated.
Once you reach the top of the Red Mountain, you're about 3,800 feet above sea level. The first run is about 1,800 feet and has a 400-foot drop, allowing you to reach speeds of about 60 miles per hour (mph). The other runs get progressively lower until the third run, which is almost a half-mile long. The last run is the shortest at a quarter-mile. You might even catch a glimpse of some bighorn sheep, lizards, and other desert wildlife on your ride. After you complete all four runs, head to the van and return to the shop.
Daylight tours run between 9 a.m. and 2 p.m., and its sunset tour begins at 5 p.m. For the sunset tour, you ride while wearing miners' headlamps. You can also select the moonlight zip line tour, which starts at 8 p.m. This tour is available the day before, the day of, and the day after a full moon. You can wear miners' headlamps for this ride, but they're not necessary due to the glowing moon. No matter what tour you select, all riders must be between 75 and 250 pounds.
FLY LINQ
Running Thursday through Monday, 4 p.m. until 12 a.m., FLY LINQ is the Strip's online zip line. Gather up to 10 of your friends, and you can all zip line together, soaring 14 stories over the LINQ Promenade at speeds of up to 35 mph. You can either fly seated or on your stomach superhero style as you enjoy the Strip's newest attraction.
The ride starts just off Las Vegas Boulevard, where you board an elevator up to a 114-tall launch tower. You zip eastward and land at the High Roller, which is the world's tallest observation wheel. Riders must be at least 40 inches tall and weigh between 60 and 300 pounds.
Rio Zip Line
Nestled between the two Rio buildings, the Rio Zip Line is suspended high above Vegas, giving you some of the best 360-degree views, especially if you go at nighttime. As the tallest and fastest zip line in the city. Head to the Rio Hotel and travel to the 52nd floor to the VooDoo Lounge, where you board the zip line.
The zip line can accommodate up to two riders at a time. Once you're ready to go, the zip line has you flying 33 mph about 500 feet in the air. What makes this ride unique is that once you're done with the ride, you head 800 feet back to the hotel, except this time it's backward. Once you arrive back at the hotel, you can enjoy complimentary entrance to the VooDoo Rooftop Nightclub and Lounge, which is one of the hottest rooftop nightclubs on the Strip.
The Rio Zip Line operates Monday through Thursday from 3 p.m. until 11 p.m. and Friday through Sunday from 11 a.m. until 12 a.m. To relive your experience, you can also purchase a GoPro video of your ride. A single rider cannot weigh more than 300 pounds, and both riders cannot weigh more than 450 pounds combined. All riders must be at least 48 inches tall.
SlotZilla
Billed as an experience for only the brave, SlotZilla sits just beyond the Strip in the older part of Las Vegas on Fremont Street. When you encounter the ride, you will see a 12-story launch tower shaped like a gigantic slot machine. Its retro appearance features showgirls, a flamingo, dice, palm trees, slot reels, gold coins, and a large slot machine arm.
SlotZilla actually has two separate rides: the Zip-Zilla and Super Hero Zoom. With the Zip-Zilla, you fly sitting starting from seven stories high and traveling two blocks. If you opt for the Super Hero Zoom, you fly superhero-style, starting 11 stories up and traveling five blocks. You will hit speeds of 40 mph, causing your inner adrenaline junkie to get extremely excited.
SlotZilla opened to the public in 2014, and since then has welcomed more than 2 million visitors. You can ride SlotZilla Monday through Thursday from 5 p.m. until 2 a.m. or Friday through Sunday from 1 p.m. until 2 a.m. Riders must weigh between 50 to 300 pounds for the Zip-Zilla, while they must be between 80 to 300 pounds to ride the Super Hero Zoom. Rides are scheduled in 20-minute blocks, and there are only a certain number of riders per block.
Stop Into Las Vegas Jewelry & Coin Buyers
No matter what zip line company you choose, you're bound to experience stunning views of Las Vegas. If you find yourself with extra time afterward, stop into Las Vegas Jewelry and Coin Buyers and check out our extensive collection of coins, jewelry, and other fine collectibles. But what do you think of our list? Did we do a good job, or is there a place we failed to mention? If so, drop us a line so we can make sure to add it.