Things to Sell Around the House
When you need to make money fast, you can look around your own house to find valuables to sell. From garage sales to online marketplaces to swap meets to resale shops, there are plenty of channels you can use to find buyers for things you just have lying around or sitting in storage. Small items can add up to a big chunk of change, or you can find a qualified buyer to get you a great price on high-value items like silver and gold.
What Can I Sell to Make Quick Cash?
Start by looking around your house and identifying the things you simply don't use that much before selling high-value items that you use regularly. Clean out your closet, garage, and jewelry box, setting aside items that you could resell. You won't miss things that were already sitting in storage, so spend some time opening up old boxes and sorting through forgotten drawers to find a good array of things to sell.
Jewelry
Selling jewelry is a fast, lucrative, and reliable way to get extra cash. Resale shops or jewelry exchanges will be able to appraise your jewelry and give you an offer right away, letting you go home a few hundred or even thousand dollars richer, depending on what you have to offer. Authentic vintage and designer jewelry can be quite valuable, especially if it is in good condition. Earrings, rings, necklaces, and brooches that have precious metals like diamonds, gold, silver, and platinum can consistently get you cash in hand regardless of where you live.
Even if you have damaged or tarnished jewelry, you may be surprised at how much you can get for it from a pawnshop or gold buyer. Jewelers can extract gemstones and melt down precious metals to make a brand-new piece of jewelry, making anything with real gold or diamonds a high-value purchase for those willing to harvest the individual parts of each piece.
Watches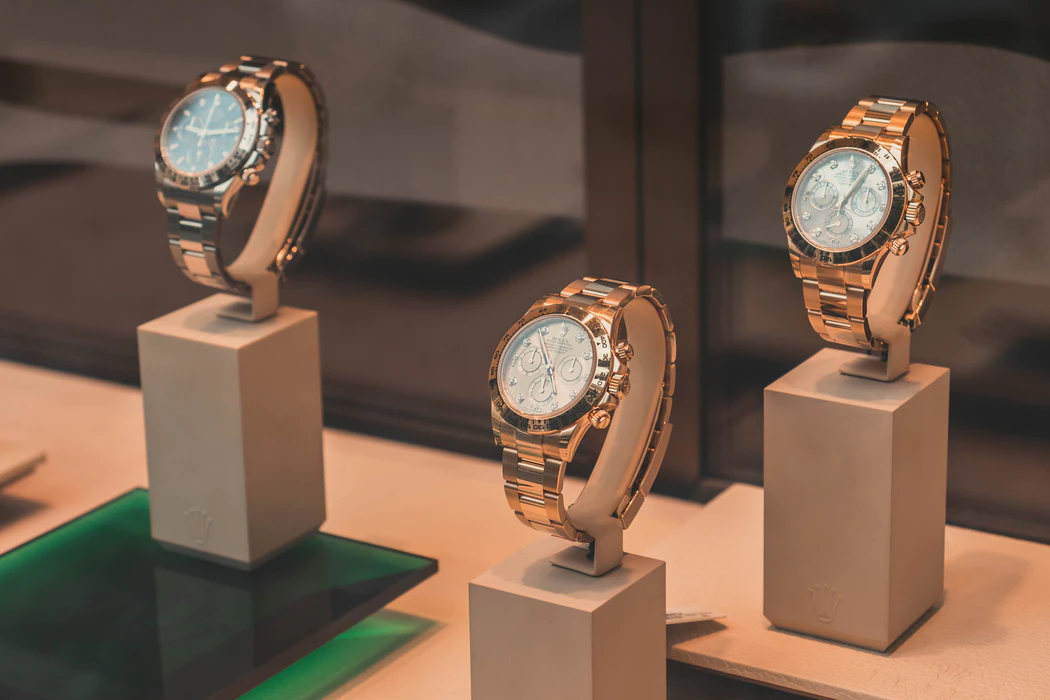 Image via Unsplash by Christian Wiediger
A well-maintained watch is also a high-yield item at a pawnshop, especially if it belongs to a luxury brand. Pawnshops generally want to have a good collection of available watches to entice customers, so even if your watch isn't a Rolex you can generally get a fair price for it. Some watches can cost thousands of dollars, and even a fraction of the original price can get you well on your way toward your financial goal. Both brand-new and vintage watches can be valuable secondhand, especially if you have an appraisal value on hand to make sure you get a fair price.
Designer Clothes
Don't forget to comb through your wardrobe for well-maintained clothing, shoes, and handbags to resell online or at a resale shop. Designer brands can often fetch up to half of their retail price, and even clothing with no labels can make you a good chunk of money if it is on-trend. Before selling your clothes, make sure everything is clean and free of stains. If you have clothing that is in good shape but has pilled fibers, you can remove them by gently running a disposable razor across the loose, clumped fibers to make your clothes look newer and get you a higher purchase price.
Electronics
Many people buy their electronics at pawnshops to get a good discount, which means that shop owners are always looking to buy pieces for their inventory. Sell the old smartphone you kept after getting an upgrade, or dust off that karaoke machine covered in dust in the garage. Speakers, computers, televisions, and video game consoles sell fast, but you will need to make sure that you have any power cords, remotes, or other related items.
Having the original packaging or instruction manual can also be a plus that earns you a few extra bucks. Before you list your electronic items, plug them in or insert fresh batteries to make sure they work.
Games
Along with your console, bring along the games you no longer play to sell. Resale shops, retailers, and online marketplaces can all give you some cash in exchange for vintage or popular video games. While most video games will only be worth a few dollars on their own, getting rid of a large collection could add up quickly.
Appliances
Household appliances are another great source of fast cash. Even broken appliances can be sold for intact replacement parts. High-value items like brand-name food processors, stand mixers, and juicers can help you get paid for cleaning out your kitchen. You can even sell large items like old washer-dryers, refrigerators, and air-conditioning units. Making sure that your appliances are thoroughly clean is especially important when selling kitchen appliances, so take extra time to wipe down each surface before meeting a buyer.
Silverware
Silverware is another high-value item that often goes unused. If you have dining utensils made of real silver, you can sell them to a metal-buying service to quickly get a decent sum of money (depending on the current market price for silver) or look for a private collector. Intricate designs can increase the value of your silver to a buyer, especially if you have the complete set of silver. Unique and obscure pieces such as muddlers, ladles, carving knives, cocktail forks, and grape shears will generally earn you more than basic forks and spoons.
To prepare your silverware and flatware for sale, first check to see if it is made of pure silver or is simply silver-plated. Genuine sterling silver serving trays and flatware are almost always identified with a small engraving that says "ster," "sterling," "925," or "coin." If your silverware is tarnished, don't worry about cleaning it. The buyer will be able to polish it, and you don't want to risk harming the original finish of your genuine silver.
Instruments
A lot of people have musical instruments in their house that they don't play anymore or never got around to learning. Classic band and orchestra instruments are always in demand as students learn to play in school, so if you have an old violin or clarinet in good condition you could make several hundred dollars. Other instruments like keyboards, drums, and guitars can also be valuable depending on their brand.
If you have items to sell for quick cash or want an appraisal on a high-value item, come visit us at our Las Vegas location or call us at 702-919-6480. We can even come to you for a home appraisal of large collections of jewelry or coins. Let our experienced staff turn your clutter into cash today.
Tags: Selling Tips